We Offer CPR & First Aid Courses For
Please contact us if you do not see your occupation listed or need assistance in determining the correct course to attend.

Medical/Dental Professionals


Foster/Child Care Providers








Basic Life Support (BLS) Initial and Renewal Training offered for Healthcare Providers
Our Basic Life Support (BLS) classes are brought to your office or medical facility in Goodyear, Arizona and surrounding areas. We provide all equipment needed for an interactive, hands-on experience. Required testing is done on-site and our prices always include the required BLS Provider Manual as well as the Course Completion Card. The course is designed for healthcare workers such as dentists, hygienists, medical assistants, nurses, physical therapists, occupational therapists and first responders.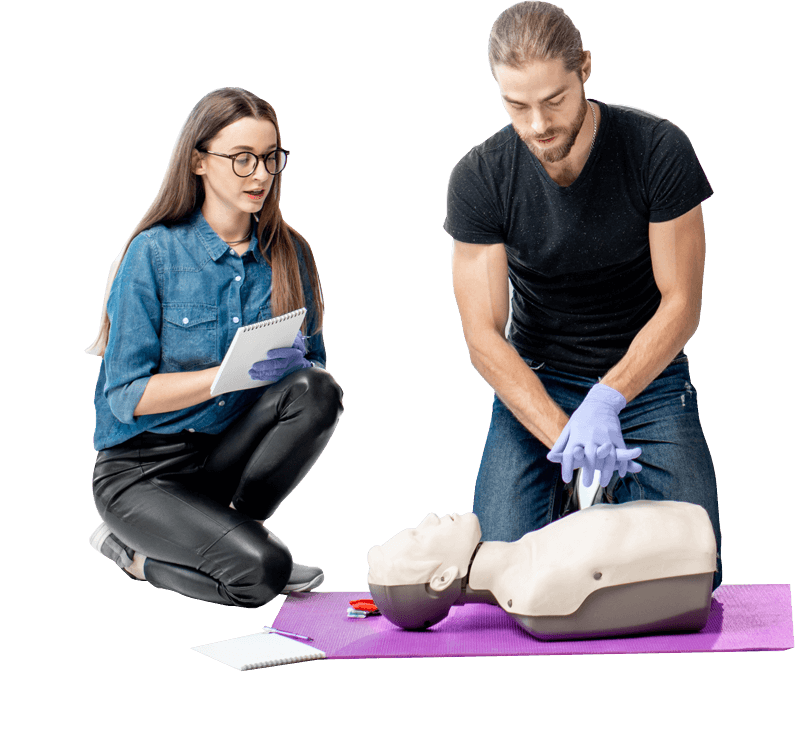 CPR and BLS Classes in Goodyear, Arizona
American Heart Association (AHA) CPR, First Aid and BLS courses are the most widely accepted for medical professionals. CPR Training Team also offers classes for groups of family members and friends right in the comfort and privacy of your own home.
Why should I be trained in CPR
The staff at CPR Training Team are committed to serving Goodyear, Arizona and the surrounding areas in high quality CPR training. Whether you are required to be certified for your job or you would like to learn CPR , how to use an AED and what to do in the case of a choking for your personal knowledge, we are the company for you! Our American Heart Association trained instructors are highly skilled and strive to make their courses informative and fun. All classes are taught at your location. We provide the equipment, manuals and AHA Course Completion Cards (when required).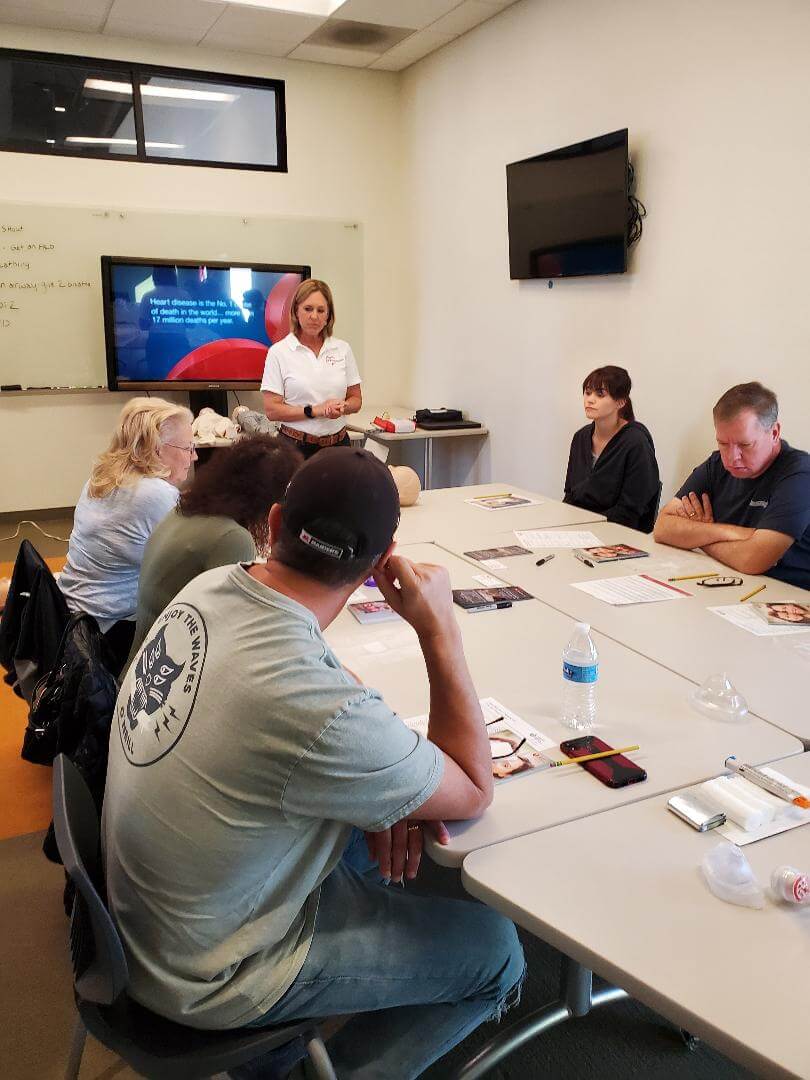 Our goal is to provide CPR and BLS courses that help individuals meet their training requirements for work; however, our main focus is providing an interactive learning experience that leaves you with a complete understanding of what to do in the case of a medical emergency. High quality CPR may save a person's life. Approximately 70% of out of hospital cardiac arrests occur in homes/residences so we highly recommend that it is learned by all!
Want To Hear What Our Clients Are Saying?
Mallory N
​I feel very prepared and well informed after taking the CPR training course! Thank you!!
Justine D
My team had such a wonderful time taking the classes they provide! They are extremely professional and thorough.
Bervolynn E
Amazing ladies teaching very important life savings skills. Highly recommend them for the CPR training.
Courtney H
Very informative and took any intimidation out of the training. I'm so thankful I had the opportunity to take this class from this amazing team. They made sure we all understood, and were comfortable with the whole process of determining when, and how to perform CPR. Thank you ladies!
Stephen H
Kimberly and Leilani are very skilled and true professionals. They were willing to help me out with my CPR recertification on short notice with hosting a very small class at my clinic. They traveled to my office and were very prompt and efficient at setting up and administering the class training and practical and written exams. I received my renewal ecard the next business day and I am all set for another two years. I would highly recommend CPR Training Team to anyone who needs CPR certification for their job or professional license.
Small and Large Group Training
Whether you have a group of 3 people or 20, our group CPR training is for your team! We will teach at your medical facility, gym, warehouse, community center, school, church hall or your home. Please contact us if you feel that your location is not adequately spaced as we are partnered with organizations that may be able to accommodate an alternative location.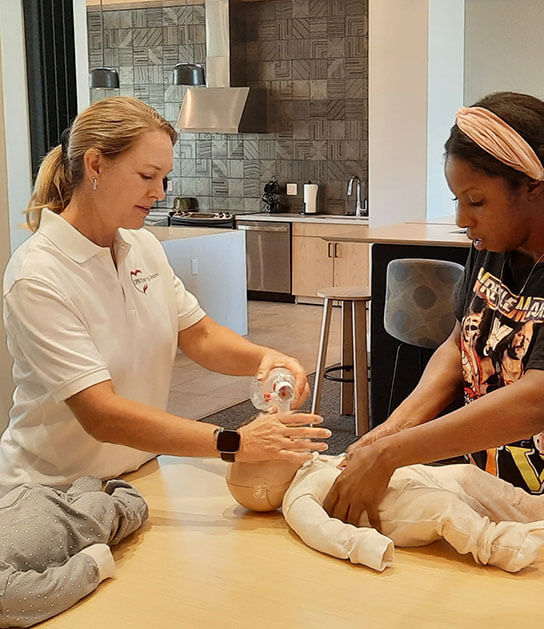 View or Claim Your E-Card Here!
Click the button to view your card directly on the American Heart Association website!
"The American Heart Association strongly promotes knowledge and proficiency in all AHA courses and has developed instructional materials for this purpose. Use of these materials in an educational course does not represent course sponsorship by the American Heart Association. Except for a portion of fees required for AHA course materials, any fees charged for such a course do not represent income to the American Heart Association."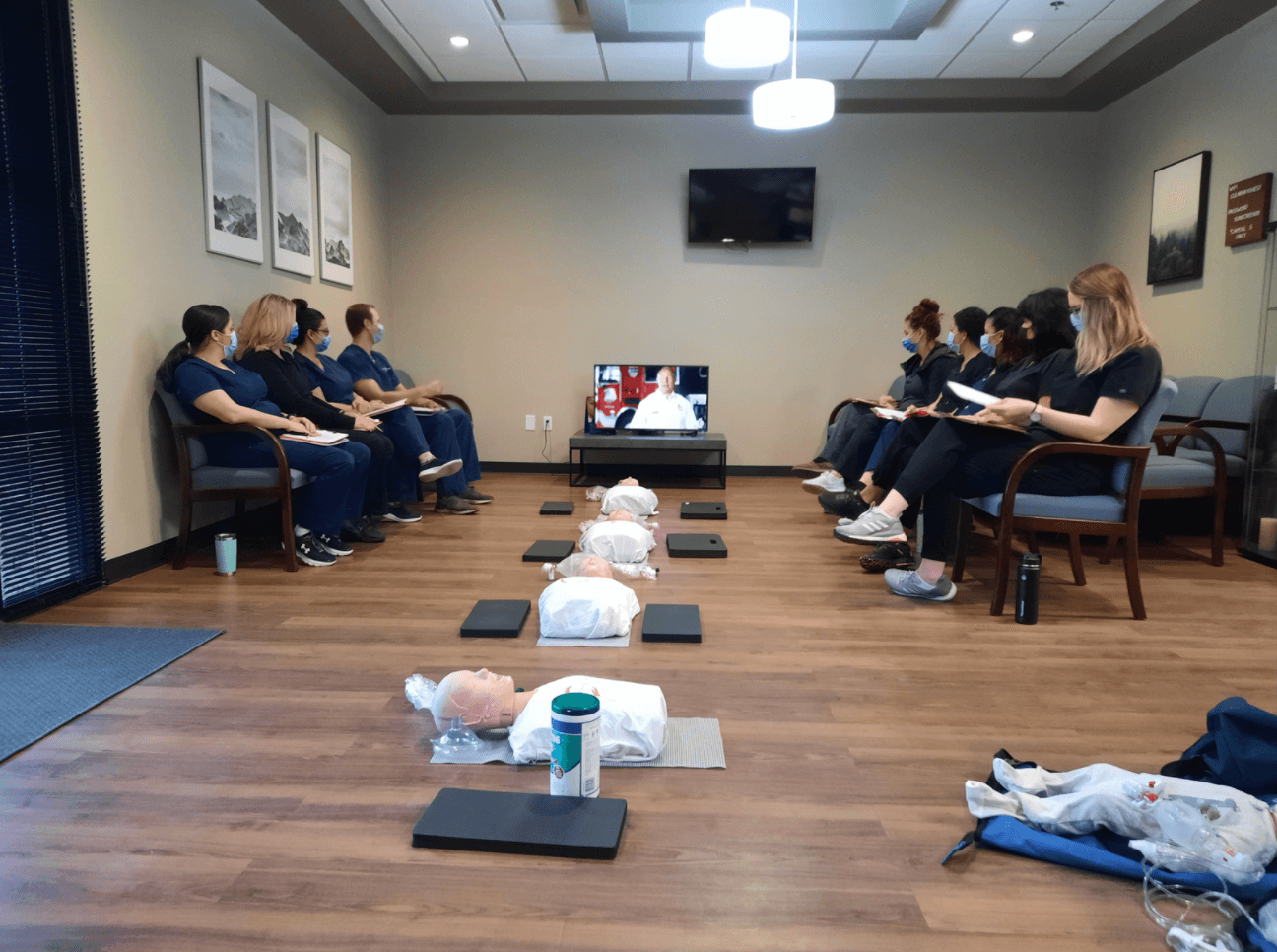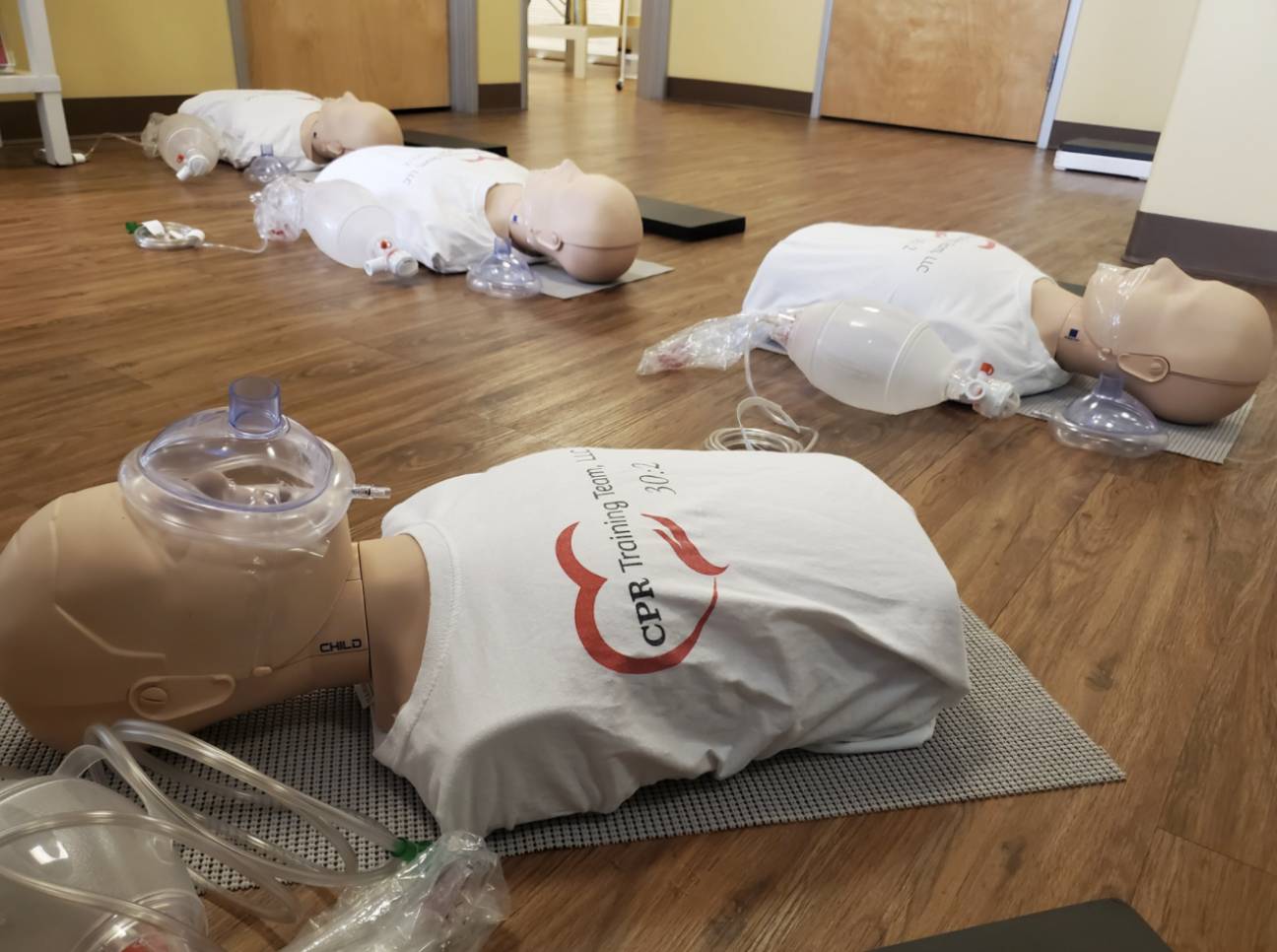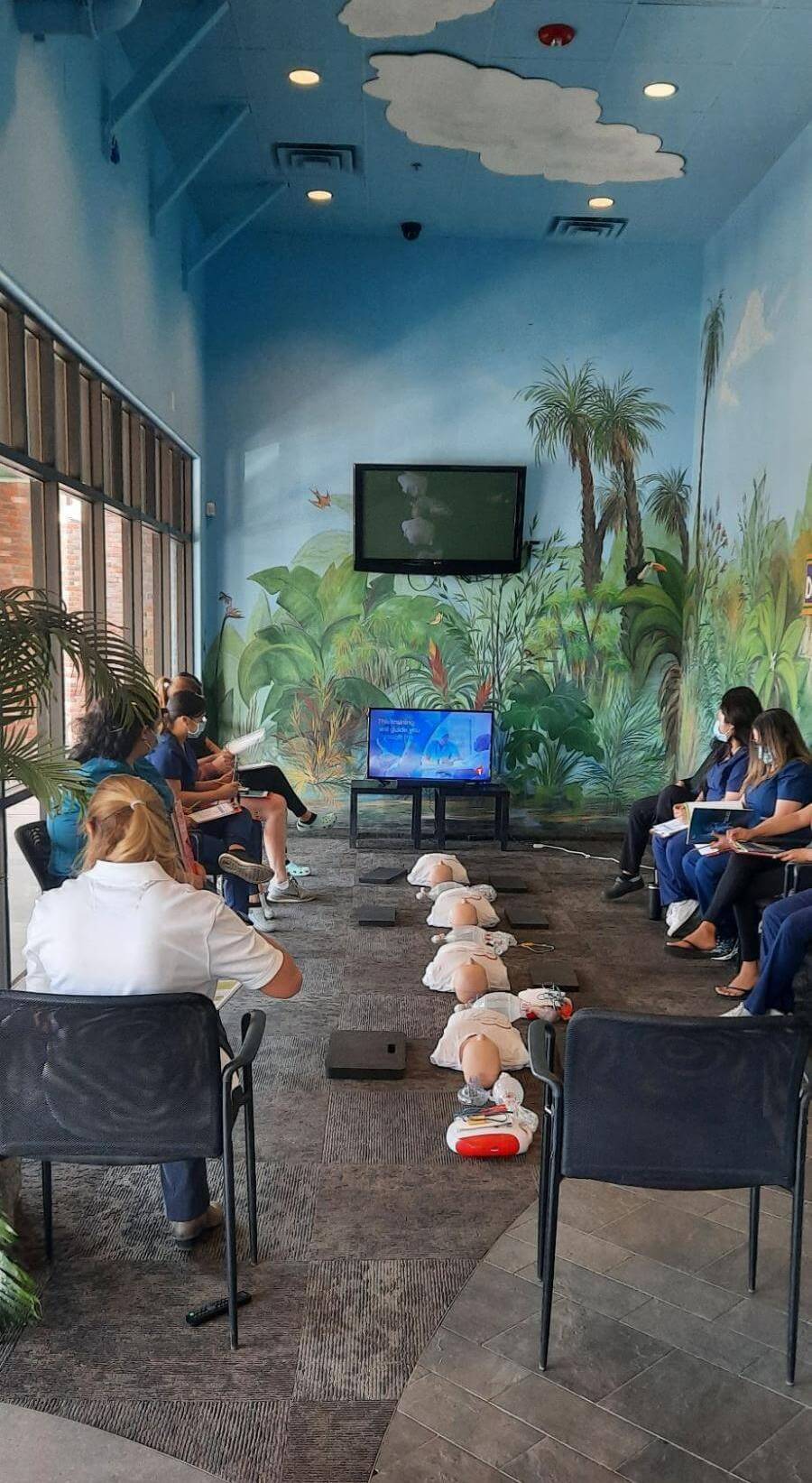 "The American Heart Association strongly promotes knowledge and proficiency in all AHA courses and has developed instructional materials for this purpose. Use of these materials in an educational course does not represent course sponsorship by the American Heart Association. Any fees charged for such a course, except for a portion of fees needed for AHA course materials do not represent income to the American Heart Association."